'Louis Vuitton X' exhibition: 9 things to know before you check it out
Luxury brand Louis Vuitton debuted its highly publicized "Louis Vuitton X" exhibition this week with a daytime media preview as well as a star-studded cocktail party attended by Alicia Vikander, Jennifer Connelly, Orlando Bloom, Hailee Steinfeld, Jaden Smith, Millie Bobby Brown and Miranda Kerr.

Those without early access couldn't miss the elaborate white and sunset-colored exterior that took over 468 N. Rodeo Drive in Beverly Hills, a property purchased by LVMH Moët Hennessy Louis Vuitton for $245 million last September, according to real-estate data provider CoStar.

Now open to the public, this temporary retrospective explores the Parisian brand's 160-year history of partnerships and takes visitors on "an immersive journey through the house's creative exchanges and artistic collaborations," according to press materials.

Here are nine things you should know before visiting the exhibition.

1. Los Angeles is the exhibition's first stop. "Paris hasn't seen this. New York hasn't seen this. Shanghai, Tokyo," Louis Vuitton Chief Executive and Chairman Michael Burke said during an interview Thursday night at a cocktail party in the Beverly Hills space. "This is the first city where we did it, and then it will go on a worldwide tour. But it starts here in Los Angeles because of the vibrant art scene."

2. Virgil Abloh fans will want to seek out a never-before-seen piece by Sylvie Fleury as it provided much of the inspiration behind the men's artistic director's spring/summer 2019 prism bags. Featured in "The Monogram as Blank Canvas" room, the Fleury-designed piece could easily be mistaken for one of Louis Vuitton's classic Keepall travel bags.

However, it's actually a bronze sculpture the French design house acquired shortly after it was created as part of a series by the artist in 2001. According to a representative for Louis Vuitton, Abloh was attracted to the piece after storming the brand's archives during his first week on the job. It's the only piece in the room that's not part of Louis Vuitton's previous style collaborations.
3. A room titled "Lights, Camera, Action! Louis Vuitton on the Red Carpet" features 31 Nicolas Ghesquière-designed contemporary looks worn by the brand's celebrity fans and ambassadors. Among them are: a silk evening gown with embroidered sequins worn by Oscar winner Alicia Vikander to the 22nd SAG Awards; a long sequin, leather and stud embroidered dress that Oscar nominee Michelle Williams wore to the 2018 Met Gala; singer Taylor Swift's 2016 Met Gala dress; and "Game of Thrones" star Sophie Turner's embroidered silk and sequin Centre Pompidou-inspired-design from this year's Met Gala.
You get bonus points for keeping an eye out for the custom white high-neck Louis Vuitton gown with bold sleeves that Academy Award winner Lady Gaga wore to the Oscar nominees luncheon earlier this year.
4. The expansive exhibit features 180 items from Louis Vuitton's archives over the course of 10 rooms and two floors. Key pieces include: early 20th-century special-order trunks; elaborate Art Deco perfume bottles and window displays commissioned and designed by Louis Vuitton's grandson, Gaston-Louis; Monogram pieces reworked Karl Lagerfeld, Rei Kawakubo, Cindy Sherman and Frank Gehry; as well as original collaborations and commissions by artists including Yayoi Kusama, Richard Prince and Zaha Hadid.
Other highlights include silk scarves by Japanese architect Arata Isozaki as well as American conceptual artist Sol LeWitt.
5. Social media factors into the interactive experience as well. As guests survey the various rooms, three Louis Vuitton-inspired Instagram camera effects — developed specifically for the exhibition — are available for visitors to capture the moment. Using a smartphone, guests scan a bar code to unlock X-ray and technicolor filters that are exclusive and unique to the space.
Snapchat also worked with Louis Vuitton to create a 3-D filter for the exhibition.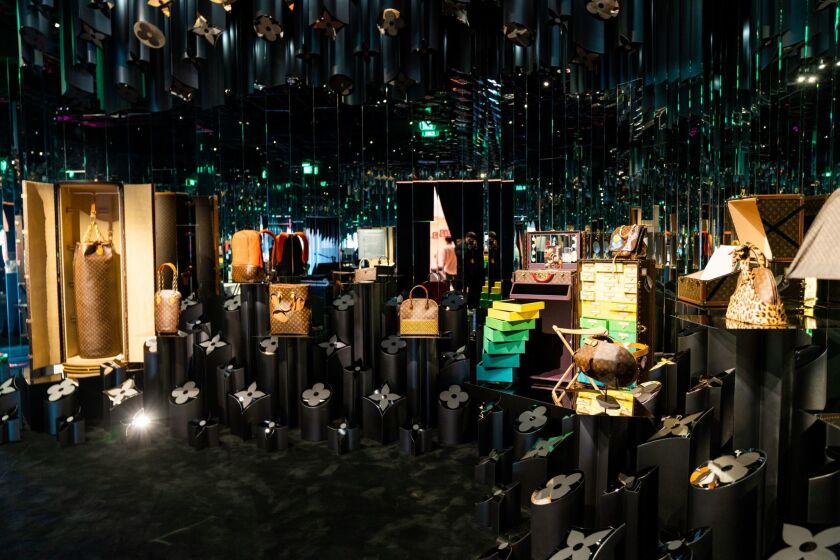 6. The exhibition also marks the world premiere of the ArtyCapucines Collection for which six contemporary artists re-imagined the brand's classic Capucines bag. The artists — Sam Falls, Urs Fischer, Nicholas Hlobo, Alex Israel, Tschabalala Self and Jonas Wood — brought their own unique takes to the limited-edition collection. The bags retail for $8,600 each.
Israel designed a bright wave that includes quirky details such as a comb and mirror; Woods utilized digital printing and 3-D embroidery for his piece; Fischer created a playful, handcrafted fruit and vegetable design with a detachable silicone banana (or other fruits and vegetables depending on one's preference); Hlomo's creation features a hand-laced and stitched leather pattern; Self embraced embroidered leather patchwork for her bag; and Fall's includes a delicate mother-of-pearl design.
Only 300 bags of each design exist. Many of the pre-sale pieces sold out in advance with a few bags held for the opening night party. Six samples will remain on display at the exhibition after the bags are sold out.
"I was thinking a lot about some of the stronger, formal qualities within my practice, so I was thinking about iconography," Self said of designing her piece, which features leather, pony hair and lizard textiles. "I wanted to locate the most iconic element of the brand and I landed on their logo. I broke the logo up into four discrete parts and thinking about the LV itself as a fifth. I wanted to deconstruct and reconstruct those various elements using different kinds of textiles."
Of the process, she said, "When I was first making it, I made a sample by hand of each of the different logo elements. And then that sample was photocopied, and I used the photocopy paper pieces to collage a design of the sample. The original sample was a paper collage that was translated into this more three-dimensional textile collage."
more >>> follow link
Source: 'Louis Vuitton X' exhibition: 9 things to know before you check it out